When I was younger, heavy petting meant one thing. Now that I'm not younger, it means something else to me – petting my hounds. Their soft short hair, combined with the sleekness of their build, makes them seductive. Seductive to lower blood pressure, less stress and just more happiness in general through touch.
As our hounds' guardians we can insure their skin stays soft and sleek.
Oils and fats are necessary for good skin and coat. They can be given at any age, but are particularly helpful with a new dog, an ill dog and older dogs. But not all oils are created equal. I've found three staples throughout the years and hundreds of greyhounds passing through Gang's doors – Grizzly Salmon Oil, Grizzly Pollock Oil and Organic Coconut Oil.
What Goes In Shows Up
What we ingest appears in the health of our hair and skin and overall bodies. It's the same with our hounds. A high quality meal, limited in grains (carbohydrates), high in omega 3's, with the correct balance of omega 6, (minimum 5 to 1, Omega 3 to 6) can produce not only a lovely coat, but insides which are healthy too.
Protein, Fats and minimal Carbs are key. Greyhound Gang has a Food Brochure which I'm happy to send when you place an order. Just put that in the comments section. We also have information about feeding at Greyhound Gang – Learn – Food.
Skin Issues
Healthy, well fed greyhounds don't often have skin issues. Most aren't prone to hot spots, or dander, or loss of hair like some other breeds. I've found white and blue dogs usually have more skin issues than the darker colored hounds. If you're battling skin issues, which are usually a reaction to an allergic – food and environmental – response, here are some natural suggestions which can help.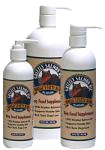 Grizzly Salmon Oil provides 10:1 – Omega 3 to 6 – ratio. This is an excellent ratio. You must always have at least 5 times more Omega 3 vs 6 in a dog's diet. Generic fish Oils, farmed fish oils do NOT provide this ratio. Kibble has lots of Omega 6 in it, and this can be harmful if combined with other supplements with too much Omega 6. I use 3000 mgs a day for normal care, which with Grizzly is 3 pumps a day. If issues, like pemphigus/SLO, or old age, I put upwards of 6000 mgs a day in food.
Grizzly Salmon Oil, as a supplement, can help with:
General signs of aging, including stiffness, arthritis, loss of zest for life
Poor skin condition – lacking luster and shine
Skin reactions to fleas and other parasites
Excessive shedding
Pemphigus/SLO
It's why Greyhound Gang uses and offers Wild Grizzly Salmon Oil. It is high quality, easy to give and hounds love it.
Pollock Oil is a cost effective alternative to use if you don't need immune system support – though who doesn't need immune system support? It has high levels of Omega 3's in relation to Omega 6's. I will substitute Pollock after a few months on Salmon, just to introduce something different to my dogs' systems.
Grizzly Salmon & Pollock Oils provide the long chain Omega-3 fatty acids EPA and DHA, which typically have 7 to 10 times higher bioavailability (efficacy) than ALA from flax or other plant sources. EPA and DHA help maintain naturally healthy skin, lustrous coat, healthy joints and a sound cardiovascular system. DHA has also been shown to be very beneficial for the nervous system, eyes, and for maintaining a naturally high fertility status.
Fish oil capsules often don't tell you what kind of fish, can often be farmed fish, and don't have optimum levels of Omega 3 to 6. You want Alaskan Wild Salmon or Pollock Oils. You do not want farmed fish, only wild. You don't want Plant based oils (like Flax) because they are not easily absorbed, and have lower levels of Omega 3's. You want a minimum of 5 to 1, Omega 3's to 6's. The higher the levels of Omega 3, the better. Omega 6 is in dog food, and too much Omega 6 can cause itchy skin, dandruff, shedding, dull coats and more.
COCONUT OIL

I've used coconut oil for years in cooking, and when I started giving one tablespoon in my hounds' food, especially a new boy with lots of systemic and skin issues, positive changes occurred. Only buy organic, extra virgin, unrefined, expeller pressed, non-GMO, made from fresh coconuts. Greyhound Gang uses Nutiva & Kirkland Coconut Oil. Here's where coconut oil can help:
Skin & Coat
Clears up itching, fleas, allergies, eczema, hot spots – overall skin health
Promotes coat sheen and color and reduction of dandruff and doggy odor
Treats yeast (candida) and fungal infections
Helps with wound healing and cuts
Topically helps wounds, hot spots, dry skin, hair, bites, stings
Digestion
Helps heal IBS, colitis and other digestive issues
Improves digestion and absorption of nutrients
Reduction of bad breath
Help in hairball elimination and coughing
Overall Health
Provides antiviral, antifungal, antibacterial support to prevent infection and disease
Helps balance insulin and regulates thyroid function
Helps with diabetic issues
Helps with weight loss
Increases energy
Helps with arthritic and ligament issues
Coconut oil consists of:
more than 90% saturated fats – Medium Chain Triglycerides (MCTs)
Main component (more than 40%) of MCTs is lauric acid (also found in breast milk), followed by capric acid, caprylic acid, myristic acid and palmitic.
Coconut oil also contains about 2% linoleic acid (polyunsaturated fatty acids) and about 6% oleic acid (monounsaturated fatty acids).
MCTs provide the most benefits from coconut oil. Lauric acid in coconut oil has antibacterial, antiviral, and anti-fungal properties. Capric and caprylic acid have similar properties and are best known for their anti-fungal effects.
More information at these articles:
Allergies

As well as finding a food which does not trigger or exacerbate an allergic response, natural supplements can also help in the treatment of allergies. The oils were mentioned above. Herbal capsules, tinctures, a high quality vitamin, vitamin C, Yucca, MSM can all help. Try some for your allergy sufferers and they will receive the added benefit of assisting their mobility as they age too. Greyhound Gang offers tried and true natural products which have helped hounds throughout the years.