Loved Hound
Who doesn't love to talk about their hounds? Spread the word to thousands with a big, front page banner picture and story for all to see for at least a month, if not more. For a donation, your own hound can be featured. You can read about my Loved Hounds here.
Sunny – by Lori Wike
My Sunny is definitely a loved hound! She is now on her second pacemaker and, I'm thrilled to report, is doing really well. Sunny is an extremely gentle and sweet greyhound and I jokingly call her The Cat Whisperer. Not only do my cats adore her and snuggle up next to her, but random neighborhood cats also love her and make a point of greeting her on our walks. I'm pretty sure she would cuddle with a bunny, if given the chance. Seriously.
A little over two years ago, Sunny suddenly began collapsing. It only happened about 3-4 times that first week and after each episode she seemed fine initially. Our regular vet was out on maternity leave and the first vet Sunny saw wasn't sure what was going on, but thought it was some sort of back issue. After a night of distressed breathing, I took Sunny up to a Park City physical therapy vet office for a chiropractic appointment with Dr. Debbie Hadlock. Dr. Debbie took one look at Sunny and said your dog doesn't have a back problem, she has a heart problem! She did an EKG to confirm that Sunny was in 3rd degree heart block and told me that the only thing that could help Sunny would be a pacemaker. Of course, I was in shock — I didn't even know that dogs could get pacemakers!
Sunny began failing fast, so I didn't have much time to make a decision. I took Sunny to my local emergency/critical care vet that night and after some additional testing to make sure her heart was sound otherwise, her pacemaker surgery was scheduled for the following morning with the awesome surgeon Dr. Ravi Seshadri. Sunny was so weak that she could not be put under general anesthesia (her heart rate was under 20 at the time of surgery), so the pacer had to be placed in her neck under light sedation, with a lead running to her heart. This meant no more collars for Sunny and that I would need to be extremely cautious with her around other dogs due to needing to keep her neck protected.
Sunny made a full recovery from the surgery and, in fact, became more energetic than she'd ever been before! For nearly two years, she was in excellent health with a healthy heart. Sadly, this past March, a very aggressive dog broke out of his yard and attacked Sunny, biting her neck on our morning walk. Thankfully there were no major lacerations, just one puncture wound, but it was right where her pacemaker was located. An initial EKG showed everything to be ok though.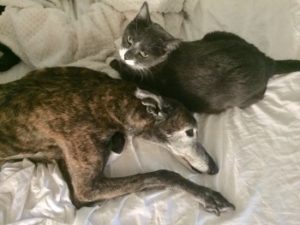 Then on April 25th, 25th, after seeming fine all day, I saw Sunny try to stand up and collapse back down. My heart sank. She tried again and collapsed again. I knew instantly something wasn't working with her pacemaker and we headed to the ER Vet.
Sunny's pacemaker was indeed having issues and was only capturing about 55-60 % of the time and had been sporadically doing so for the last month. Her pacemaker surgeon initially tried turning up the voltage as the most likely reason for the pacemaker not always capturing was the buildup of fibrous scar tissue around the lead. That fibrous tissue doesn't conduct electricity as well. When turning up the juice didn't completely fix matters, he told me we would need to do a lead replacement surgery and that he felt she had a good prognosis for that despite being an older dog (Sunny is 11, almost 12 now).
Since Sunny had a partially functioning pacemaker, she was able to have general anesthesia this time and everything would be placed in her chest. The new lead was attached to her heart, the old pacemaker was attached to the new lead and, unfortunately, it wouldn't capture properly. Most likely the old pacemaker had been damaged by the dog bite the previous month. Dr. Ravi quickly attached a brand new pacemaker and everything was A-OK.
It was a big surgery for my girl and she really struggled with the post-op recovery. Finally I was able to bring her home 4 days later and could give her lots of TLC. She was very, very weak for the first week and required lots of lifting and carrying, but each day she made little bits of progress.
Now, 6 weeks after the surgery, Sunny is doing fantastic! She's happy, is gaining weight, is getting more energetic each day, and now occasionally can be seen doing play bows and brief "dancing zoomies" inside.
From Lori: Some more info about Sunny's cat fan club:
Jigsaw is the grey kitty, absolutely adores Sunny and barely leaves her side when she's sick. When I adopted Jigsaw I joked that I was getting a cat for Sunny and, as it turned out, that's exactly what happened! They loved each other immediately. Xander is the orange kitty, lives outside and follows Sunny on our walks, was my neighbor's feral I started caring for after my neighbor died. He's semi-tame now and acts like he thinks Sunny is his mom, pretty cute. He comes inside now and then and makes a beeline to cuddle up next to Sunny.
From Claudia: Sunny and Lori dog sat for two weeks in 2014 at my home. Sunny's fan club extends to my dogs. They don't share their space with each other. But they obviously fell in love with Sunny's sweet disposition and sunny attitude, and always wanted to be around her. We are so happy she is doing so well, and send our love.