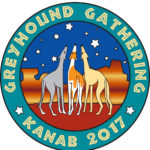 WHEN: May 17 – 19, 2019 (No Gathering in 2018)

WHO:
Lovers of greyhounds and sight hounds from around the world come to Greyhound Gathering – Kanab. Sponsored in 2017 by Kane Country Travel Council, Kanab City, Kane Cty Volunteer Center, Best Friends Animal Society, Galgos Jubilados, La Estancia, Canyons Collection, Greyhound Gang and Get Up & Go.
WHAT:
This 3 plus-day celebration and FUNdraising event features Blur of Fur, Costume Parade, Music on Main, Yappy Hour, Best Friends Tours, Auctions, Speakers, Food, Fun and Frolic, Meet & Eat at La Estancia Dog Park, Art Show, Auctions, Fantastic Meals and select Artisans
GREYT NEWS – In 2017, over $30,000 in donations from Greyhound Gathering – Kanab's incredibly generous donors were dispersed to these deserving groups:
Almost Home for Hounds – AHH
Greyhound Adoption League of Texas – GALT
American Lurcher Project
Love Hope Believe Galgo
Greyhound Adoptions of Florida – GAF
NE Ohio Greyhound Rescue
Everything Greyt
GPA 3 Rivers for 4L4H Fund
Greyhound Adoption Center – GAC
Friends of Retired Greyhounds – FORG
Greyhounds Friends for Life – GFFL
Golden State Greyhound Adoption – GSGA
112 Carlota Galgos – Spain
Galgos En Familia – Spain
Galgos Del Sol – Spain
Limerick Animal Shelter – IR
Amazing Greys – AU
Greyhound Rescue – AU
Broken legged gal thru Scooby
Artisan – Greyhound Topia also donated $400 between Fast Friends and GreySave.
Artisan – Northcoast Greyhounds donated $1500 to GPA 3 Rivers for 4L4H Fund
Artisan – Cartuna/Steve Wirtz donated $930 to Gang from Art Class
WHERE: Kanab, Utah
HOW:
1) Read the Guidelines
2) Make an Accommodation Reservation First.
3) Register. (Starting March 2019)
4) Join/Like our Facebook pages – Greyhound Gang & Greyhound Gathering – Kanab
5) Sign up for Newsletter notifications
Registration is $110. This fee defrays some of the costs, it doesn't cover them. Registration Closes 5/1/19.
2017 Registration included:
– Three excellent meals and extras – one dinner, two lunches. Meet & Eat, Yappy Hour, Cow Tails & MORE
– Events – Talks, Costume Parade, Blur of Fur, Hike, Music on Main, Angel's Landing, Best Friends & MORE
– Memory Photo (8×10)
– Candid Photos – Digital
– Greyt Read booklet
– Free gifts given to you at each event you attend (total value over $200)
– Prizes at Parade & Blur & Photo Contest and other events (value over $200)
– Senior Goodie Bag – valued over $150
– and more
SPONSORS: