HOW Greyhound Gang began is a good story. At least I think so.
It was 1987. My East Coast corporate life was all consuming with 7 – 7 days, and working at home continually. To get away from it all, my black afghan hound, Jezebel, and I took a four hour road trip to Vermont in my cherry red Karmann Ghia convertible. I thought attending a refresher obedience class, under blue Vermont skies would be fun. Jezebel, ten, thought NOT. She took one look at the puppies in the class, and sashayed her skinny butt over to a tree and laid down. Shaking my head, I started over to sit with her, knowing we were going to be observers, not participants. Just then a white van pulled up. As the back doors swung open, two of the skinniest, stylish, stunning creatures I'd ever seen peered out tentatively from the van doors. Running over, I touched my first greyhound. My Ah-Ha moment, and I've been touched ever since.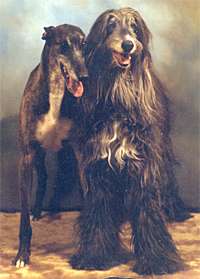 That moment was the beginning of many moments – including leaving my very good East Coast corporate job, selling my lovely house, my comfy convertible, telling my boyfriend goodbye and hitting the road with my greyhound , Slim and my cockatiel, Hoser. That Journey is detailed here in letters I wrote back to friends starting in 1993.
How Greyhound Gang has successfully existed since 1995 is all about the devotion and donations of many.
We started as a front line rescue and adoption organization. We took  in greyhounds no longer wanted, did all the medical and behavioral care, found good homes and educate adopters.  We've evolved to an educational and fundraising non-profit. All this was and is possible because of the largess of individuals just like you. You can read about how hounds were helped, and can continue to be helped at DONATE.
BEGINNINGS
I'd found out about the plight of the ex-racing greyhounds in 1987. These elegant wonderful dogs were being killed at the rate of over one hundred a day, just because they were not winning races. Horror stories were in the news about these dogs being left to starve and die in crates, or being taken out to remote areas and shot in the head, with their ears cut off so tattoos were unidentifiable. When I adopted my first one in 1987, I'd found my passion. These dogs, their personalities and their plight spoke to me and I could not sit on the sidelines. I had to do something.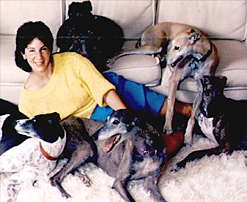 I started working in 1987 with adoption groups in Connecticut. When I moved to Utah in 1993, no one was rescuing greyhounds. So I completed all the government paperwork and received my tax-exempt, non-profit status. This meant I could write to my friends back East, who still had good paying jobs, and ask them for money and they could deduct it on their taxes. I found people in Tucson track willing to give me greyhounds no longer wanted by breeders. I bought a small home on 2 1/2 acres, fenced it, bought a utility vehicle to haul dogs, and started going to pet stores and talking about greyhounds. I created a guide, a brochure, an application, booklets of pictures, a web site. I brought my own greyhounds, Slim and Beauty, everywhere with me. I entered a contest for most disorganized office in Entrepreneur Magazine and I won a computer. Some of that journey is written about here.
It really wasn't that hard, because it was the right thing for me to do. When you find what you have to do, then it all follows. "Build it and they will come." "Feel your passion and make it happen." It's all true. And it all works.
"I cannot not do this. It is as much a part of my life as waking up every morning and greeting my dogs. It is who I am. And I'm really bucking for a spot in Doggie Heaven." To read about the dogs waiting for me there, visit Dog Stories.