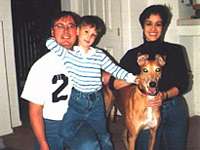 Loving greyhounds will change your life and theirs. Learning about them is the first step in determining if a greyhound is the dog for you. The adoption process outlined below is similar for all good greyhound adoption groups around the world.
Adoption Process
Once you contact a local group, you'll meet them and get your questions answered. The adoption representative will have questions for you. They'll do a home visit. You'll complete an application. A hound who fits your lifestyle will be yours to love soon.
Adoption fees range from $200 – $500. This doesn't even cover the work and cost required before a hound goes into a home. Spay/neuter, dental, shots, tick-titer tests, nails, bathing, housing, food, transportation, advertising and more are all part of the monetary outlay of volunteer adoption groups. The tremendous amount of time involved to get a greyhound ready for a home, and to find a good home are all generously donated by those who know greyhounds make the best pets. And they want you to know too!