Blur of Fur
Sunday morning our hounds will have a chance to exercise off leash — you too — at the Blur of Fur. Humans entice their hounds to run down a strip of grass (all fenced, of course), as the crowds cheer, and the hound is clocked by Kanab police's radar gun. Prizes are awarded, but not for the fastest. We like to award for individual accomplishments that aren't competitive – like biggest poo on the course, most crowd pleasing (when hound does not want to be caught), best try, could care less etc.
No human has yet been hurt in this run, though some have tried. Watching them run for fun while chasing you is a highlight of the weekend. It's also greyt exercise if you are leaving us on Sunday.
Costume Parade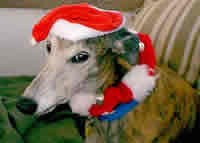 Our Parade rivals all others! EVERYONE participates. And everyone dresses up their hounds. (and even themselves!) I know some of you are rolling your eyes, thinking – "I'm not dressing up my hounds or me." But you'll win a fabulous prize if you do, (ask other greyhound guests about our prizes) and you'll be dancing in the streets – promise. The town comes out, the TV cameras are rolling, and Elvis might even make an appearance. And if he can come back from the grave – in costume – so can you! We've got a stage, where all costumed hounds and humans have a chance to talk and show off their creativity and beauty after the walking and waving.
There are excellent prizes for all the 'winners', and no one who dons a custom goes home without a prize. Start planning now!
Food
Food and the FUN-draising around our meals is an event and a highlight of the Gathering. I'm Italian, so there is always a lot of food, and the best I can find in Kanab. Your registration fee gives you three meals, plus a Saturday night dessert. If you come in Thursday, you're invited to Meet & Eat at the Dog Park where finger food will be served – including a bakery blueberry coffee crumb cake I gained weight on! Friday night is all you can eat pizza, and I do mean all you can eat. Plus home made bone cookies for humans. Chef Shon, of Sego fame, is catering again. Saturday lunch, because you've worked up a big appetite marching and waving in the parade, features Southwest shredded beef fajita wrap- all natural third party verified shredded beef – with hatch green chili's, grilled onion, bell pepper, garlic sour cream, avocado, shredded lettuce. Assorted kettle chips and a cookie from the new bakery! Sunday lunch will be demi baguette (from the new bakery) with red potato & sweet corn chowder to be topped with: chopped green onion, monterey and colby jack shredded cheese, naturally cultured sour cream, black pepper, bacon. Salad, dessert. Water and punch offered at meals. Vegetarian, Vegan and Gluten Free (please only pick these if you are going to eat these, as they are special orders) options when you sign up in advance for them at registration.
Angels Landing – Best Friends
Angels Landing – a natural amphitheater at Best Friends – is where shamans of old crossed over to other lands. You'll be transported to a magical place during our Saturday night festivities. It all starts with Yappy Hour and chicken shots and treats for the hounds. Humans get to taste some excellent beers from Watsatch Brewery and wines from Mutt Lynch Winery. Cow Tails are always distributed, which are Claudia's favorite candy and sustenance during the Gathering. Faith Maloney, Best Friends Founder, welcomes us. Dave Abrams, of Native American heritage, does our blessing. The highlight is Laze's auctioning and laughing and running around and more laughing and the cleaning out of all wallets, while laughing.
Speakers
We always have the best talks and demos because they are entertaining while being educational. We like to focus on practical and natural ways to help your hounds live longer and healthier. Every talk you attend, surprises are handed out. Dr. Tara, Dr. Heather and Claudia will present a First Aid Talk, some Nutritional Tips and other tips. Learn what you can treat at home, and how to wrap wounds. Demos will happen. We're hoping to have representation from all sight hound groups – afghans, deerhound, borzois, lurchers, IGs, galgos and more – and we'll have them strut their stuff.
Photo Contest
Our hounds never take a bad picture. So bring along a few of them, enter them on Friday, and show them off in our Photo Contest. The contest will be judged by Gary Kalpakoff, and Barry Glaziar – award-winning photographers. Prestigious Prizes will be awarded.
Entry Fees:
$10 for one photo
$15 for two photos
$20 for three photos
Best size is 8 x 10. But other sizes accepted. Nothing smaller than 4 x 6, please. You can take your photo back on Sunday. They will be displayed in the Old Middle School Gym all day Friday and Saturday.
Red Rock Live
Friday night, right after our dinner, we can join the music happening on Main Street, and if you are so inclined – dance off your dinner with your dogs. Town people and Kanab visitors will be there for a chance to meet and pet greyhounds.
Meet & Eat at La Estancia Dog Park & Nail Trimming
Join us on Thursday between 3 – 6 at La Estancia Dog Park for a social with humans and hound. You can Decorate Your Dog, an instant (and safe) painted costume for your hound. Dr. Weir & Robin will trim nails ($5 minimum donation – Greyt Bucks accepted)
Art Classes
Advance sign up required during registration. Enrollments limited.
Paint Your Pet (limited to 12) at BF Downtown Visitor Center on Thursday. You'll bring a photo copy hound head shot, and leave with a portrait you did. No talent needed! Trust me, I've done this and survived. $35. SOLD OUT
Photograph Your Pet (limited to 20) at Elementary School on Saturday. Gary, award-winning Kanab photographer, and gallery owner, will impart tips & tricks for immortalizing your hounds in celluloid. OK – digital. $20.
Papier Mache A Pet (limited to 40) at Old Middle School Gym. Steve provides you with a hound wire frame, and you get down and dirty messy creating your own masterpiece. Steve gets big bucks for his – how much will yours be worth? $40. ALMOST SOLD OUT.