Greyhound Gang, a 501 c3 organization since 1995, is dedicated to the rescue, rehabilitation, and adoption of greyhounds. Greyhound Gang's web site provides education and information about adoption, behaviors, medical and daily care.
Our Greyhound Gathering was the first 3-day greyhound event in the West. At this Gathering, we celebrate greyhound love while raising funds to help more hounds. Claudia also visits, on her dime and time, other adoption groups and events around the country to help greyhound lovers learn about natural and holistic methods of care, so greyhounds and other dogs have long, healthy lives. Contact Claudia for more information.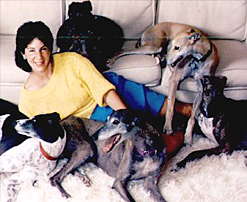 Our initial mission was front line rescue work – rescuing, rehabilitating and finding homes for greyhounds no longer wanted by their breeders. The lives we touched still touch us. See the friends we've made – 2 and 4-legged, and read some of their stories here.
We then realized we needed to do more. Reevaluating our ROI (Return on Investment – a remnant term from Claudia's business days), we transitioned to a fund raising and educational organization. Our main assistance went to the creation and sustaining of Almost Home for Hounds since 2004. You can read about our assistance (because of your largess and sales of Get Up & Go) to them and other adoption groups saving greyhounds through those years here.