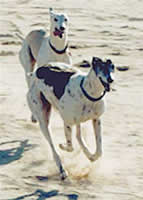 How old would ya' be if you didn't know how old ya' was? Sachel Paige said that. Think about it, if you didn't know your chronological age, then how old would ya' be?
Do your greyhounds have any idea? No Way. They don't let something like a number hamper the way they live their lives.
Can you imagine them thinking:
Whoa is me, I have a white face, what should I do?
I can't run as fast as I used to, I think I'll just lay around and gain weight.
Does my a** look fat?
They are just happy to be alive. Happy to love and be loved by you. But YOU can help them live longer and healthier by keeping their joints lubricated and strong.