Sometimes words aren't enough to express your sympathy to someone who has lost a pet. Greyhound Gang offers items to help not only hounds with the purchase, but also the recipient and giver.
We've got a Dog Heaven Book, which is a beautifully illustrated, 12″ x 8″, hardback book written and illustrated by Newberry medalist Cynthia Rylant. It is a lovely thought for someone who has just lost a special 4-legged companion. It's also perfect to read to children to help them understand where their beloved pet has gone.
There are also aromatherapy Misters and Oils that have physical and emotional healing properties.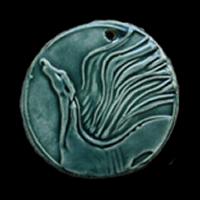 When someone you know has to let their greyhound go, you can make a donation in their memory and help hounds.  The gorgeous ceramic In Remembrance medallions are designed, created and donated to us by Sarah Regan Snavely.  For your donation, we'll send this medallion with a card and your sympathies to your friend who is grieving the lost of a pet.
These medallions express your caring for your friend's sorrow, and your donation will continue to help greyhounds have lives after racing.