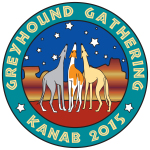 WHO:
Lovers of greyhounds and sighthounds from around the world come to Greyhound Gathering – Kanab. Sponsored in 2015 by  Kane Country Travel Council, In Memory of Pat, Kanab City, Greyhound Gang, Get Up & Go and Best Friends.
WHAT:
This 3 plus-day celebration and fundraising event features Blur of Fur, Costume Parade, Speakers, Yappy Hour,  Best Friends Tours, Auctions, Food, Fun and Frolic. Planning for 2016 already includes Scooby Medina – Galgo demo/talk, Reception at La Estancia Dog Park, Art Show,  Auctions, Fantastic Meals and Artisans – including Sarah Snavely and Cara Brockhoff.  I'm working on Agility Demo, and more Sighthound Demos & Talks –  Lurchers, Staghounds, Podencos, Irish & Russian Wolfhounds and more.
Hot Off the Press:
– Bear Wrestling
– Dancing with Dogs
– Parade: We will be part of the Amazing Earthfest Centennial Parade in 2016
– Old Hollywood Movie Set Tour – Gunsmoke and many more
WHERE: Kanab, Utah
WHEN: May 12 – 15, 2016.
HOW:
1) Read the Guidelines
2) Make an Accommodations Reservation
3) Register (in  2016) after you've made an accommodation reservation and read all info on the website
4) Sign up for Facebook notifications
Early Registration is $75 per person.   This fee defrays some of the costs, it doesn't cover them.  Registration closes, for pre-ordering,  on 4/5. Final closing is 4/30. 
Registration includes:
– Three meals and extras – one dinner, two lunches, Reception and more
– Events – Talks, Costume Parade, Blur of Fur, Hike, Angel's Landing, BF Tours
– Memory Photo (8×10)
– Memory Rock
– Greyt Read booklet
– Free gifts given to you at each event you attend (total value over $200)
– Prizes at Parade & Blur & Photo Contest and other events (value over $200)
– and more
SPONSORS:
– Kane County
– In Memory Of Pat
– Kanab City
– Greyhound Gang
– Get Up & Go
 – Best Friends