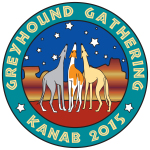 WHO:
Lovers of greyhounds and sight hounds from around the world come to Greyhound Gathering – Kanab. Sponsored in 2016 by  Kane Country Travel Council, In Memory of Pat, Kanab City, Greyhound Gang, Get Up & Go. La Estancia and Best Friends.
WHAT:
This 3 plus-day celebration and FUNdraising event features Blur of Fur, Costume Parade, Speakers, Yappy Hour,  Best Friends Tours, Auctions, Food, Fun and Frolic. Planning for 2016 already includes Scooby Medina – Galgo demo/talk, Reception at La Estancia Dog Park, Art Show,  Auctions, Fantastic Meals and Artisans – including Sarah Snavely and Cara Brockhoff.  I'm working on Agility Demo, and more Sighthound Demos & Talks –  Lurchers, Staghounds, Podencos, Irish & Russian Wolfhounds and more.
Hot Off the Press:
– Big Brown Bear Wrestling
– Dancing with Dogs
– Parade: We will be part of the Amazing Earthfest Centennial Parade in 2016
– Old Hollywood Movie Set Tour – Gunsmoke and many more
WHERE: Kanab, Utah
WHEN: May 12 – 15, 2016.
HOW:
1) Read the Guidelines
2) Make an Accommodations Reservation
3) Register (in  2016, probably February) after you've made an accommodation reservation and read all info on the website
4) Join/Like our Facebook pages – Greyhound Gang & Greyhound Gathering – Kanab
5) Sign up for Newsletter notifications
Early Registration is $75 per person.   This fee defrays some of the costs, it doesn't cover them.  Registration closes, for pre-ordering,  on 4/5. Final closing is 4/30. 
Registration includes:
– Three meals and extras – one dinner, two lunches, Reception and more
– Events – Talks, Costume Parade, Blur of Fur, Hike, Angel's Landing, BF Tours
– Memory Photo (8×10)
– Greyt Read booklet
– Free gifts given to you at each event you attend (total value over $200)
– Prizes at Parade & Blur & Photo Contest and other events (value over $200)
– and more
SPONSORS:
– Kane County
– In Memory Of Pat
– Kanab City
– Greyhound Gang
– Get Up & Go
 – Best Friends
-La Estancia