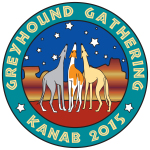 WHEN: May 19 – 21, 2017
WHO:
Lovers of greyhounds and sight hounds from around the world come to Greyhound Gathering – Kanab. Sponsored in 2017 by   Kane Country Travel Council, Kanab City, Greyhound Gang, Get Up & Go, La Estancia, Canyons Collections, Galgos Jubilados and Best Friends.
WHAT:
This 3 plus-day celebration and FUNdraising event features Blur of Fur, Costume Parade, Dancing with Dogs, Old Hollywood Movie Set Tour, Speakers, Yappy Hour,  Best Friends Tours, Auctions, Food, Fun and Frolic, Reception at La Estancia Dog Park, Art Show,  Auctions, Fantastic Meals and Artisans – including Sarah Snavely.
The first set of donations given from 2016 FUNdraising are these. I anticipate being able to donate more, but I won't have final numbers until all bills are in, and the accountant reconciles. Greyhound Gang (because of your and our sponsors' generosity) so far has given out $20,000 in donations, split among these deserving 501c3s.
Almost Home for Hounds (Greyhound Topia also donated $800 to AHH from their jewelry sales that weekend, plus $100 to Fast Friends and GreySave. Thank YOU!)
Scooby Medina
112 Carlota Galgos
Galgos En Familia
Galgos Del Sol
Southern Arizona Greyhound Adoption  (dealing directly with the Tucson Track closing)
WHERE: Kanab, Utah
HOW:
1) Read the Guidelines
2) Make an Accommodations Reservation
3) Register in March 2017 – after you've made an accommodation reservation and read all website info
4) Join/Like our Facebook pages – Greyhound Gang & Greyhound Gathering – Kanab
5) Sign up for Newsletter notifications
Really Early Registration was $75 per person. (until 3/4).
Then March 5 – April 15 is $88.
April 15 – April 30 is $110.   This fee defrays some of the costs, it doesn't cover them.   Registration Closes 5/1.  
2016 Registration included:
– Three excellent meals and extras – one dinner, two lunches. Reception, Yappy Hour, S'Mores, Cow Tails and more
– Events – Talks, Costume Parade, Blur of Fur, Hike, Angel's Landing, Best Friends and Wild West Movie Tours & MORE
– Memory Photo (8×10)
– Candid Photos – Digital
– Greyt Read booklet
– Free gifts given to you at each event you attend (total value over $200)
– Prizes at Parade & Blur & Photo Contest and other events (value over $200)
– and more
SPONSORS:
– Kane County
– Kanab City
– Greyhound Gang
– Get Up & Go
 – Best Friends
– La Estancia
– Galgos Jubilados
– The Canyons Collection